MESYM's Documentary Night is held every 2nd Tuesday of each month. Everyone is invited to come hang out, watch a documentary, meet like-minded friends and take part in the discussion. Admission is free!
We will start 2015 with an activism-packed film, together with Greenpeace Southeast Asia we are screening Black Ice, a first-hand account of the ruthless Russian response to the Greenpeace Arctic 30.
Attend the event on our Facebook Group.
About 'Black Ice'
https://www.youtube.com/watch?v=QmNyNPd76nI
When the Greenpeace ship Arctic Sunrise set sailto protest the first ever oil drilling in the Arctic Ocean, none of the people on board could have known what was coming.
Seized at gunpoint by Russian special forces, the 'Arctic 30' were thrust into headlines all over the world, facing up to 15 years in prison and finding themselves at the centre of a bitter international dispute.
A similar protest the previous year at the same oil platform had seen the Greenpeace activists walk away untouched. This time, the events that unfolded sent shockwaves across the world.
With the eyes of the world upon them, Russia charged the crew, from 18 different countries, with piracy and hooliganism in the most ruthless response from a national government against an NGO in a quarter of a century.
Their imprisonment, which saw worldwide media cast the Arctic 30 in the same mould as political prisoners like Pussy Riot and Mikhail Khodorkovsky, lasted months. However, their resolve to try and stop oil drilling in the Arctic was never broken.
Complete with never-before-seen footage and behind-the-scenes access, 'Black Ice' tells the story of the Arctic 30 from the moment they set sail to protest at the controversial Prirazlomnaya oil platform, to their arrest, imprisonment… and what happened next.
Arctic 30 in images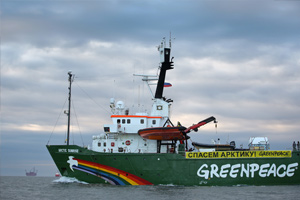 17 September 2013: The Arctic Sunrise with Prirazlomnaya oil platform in the distance. © Denis Sinyakov / Greenpeace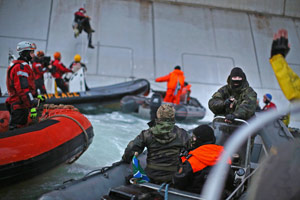 18 September 2013: The Russian coastguard and Greenpeace at the Prirazlomnaya oil platform. © Denis Sinyakov / Greenpeace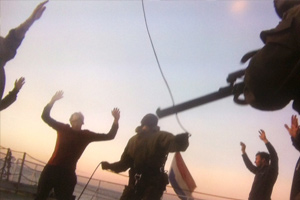 19 September 2014: Russian special forces abseiling onto the Arctic Sunrise and seizing the ship at gunpoint. © Greenpeace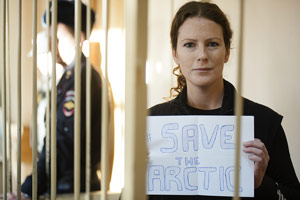 18 November 2013: Activist Ana Paula Alminhana Maciel Detention Hearing in St. Petersburg. © Vladimir Baryshev / Greenpeace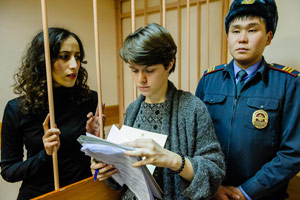 20 November 2013: Faiza Oulahsen Detention Hearing in St. Petersburg. © Dmitri Sharomov / Greenpeace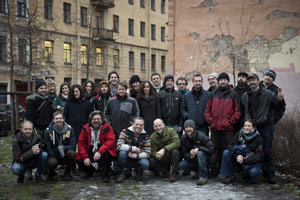 03 December 2013: Group shot of 26 of the Arctic 30 in St.Petersburg after their release on bail. © Denis Sinyakov / Greenpeace